Red River Ranch for Sale: An Ag & Hunting Paradise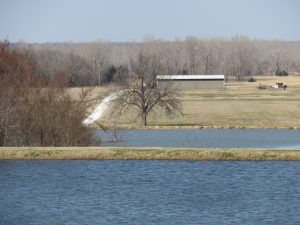 The 2092 acre Red River ranch for sale, located just northeast of Paris, Texas along the southern bank of the Red River is a large multi-purpose ranch. The scenic Red River ranch features, large spring-fed private lakes, spring-fed Pine Creek, rolling coastal Bermuda pastures, dramatic shifts in topography, and highly productive agricultural soils, providing USDA Prime soils and pivots for farmers, habitat diversity for sportsmen, and quality grasses for cattlemen.
Red River County Overview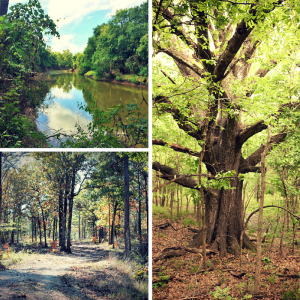 4M Ranch is located in Red River County, a rural county in northeast Texas with a population of 12,446. The county contains 1,217 farms and ranches covering over 422,645 acres. The area has a rich history as a disputed area between the Spanish and the French, and later between the United States and the French, as it was unclear whether or not it was included in the Louisiana Purchase. During the Texas Revolution, the county sent three companies of riflemen to help the cause and the county has a rich agricultural history. To find out more about the county's history, click here.
Red River Ranch Features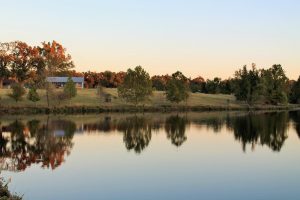 Located on the ranch are several structures, including the main home, caretaker's home, an insulated workshop, silage facility, barn, a and livestock processing facility. The main home is located on a hilltop overlooking the Red River Valley and is 2,000 SF with 3 bedrooms and 2 bathrooms, while the caretaker's home is located close to the ranch's entry and is ideal for a ranch foreman's day to day oversight as it features 3 bedrooms, 2 bathrooms, and 1,800 SF.
Hunting/Fishing
For the sportsman, 4M Red River ranch for sale offers great hunting and fishing opportunities. For fishing, the largest of the three spring-fed lakes on the property (13 acres) provides excellent trophy bass fishing and amenities such as a forty foot T-Shaped pier and casting platform to ensure that anglers of all ages and skill levels will enjoy everything that the lake has to offer. The Red River and Pine Creek also offer a chance to catch giant catfish, striper, sand bass, and other fish. For hunting, the 4M Ranch boasts a wide variety of different wildlife that will appeal to almost any hunter. A significant whitetail deer population coupled with farming wildlife food plots to create timbered hunting lanes, has created a wonderful environment for deer hunting at 4M Ranch. Irrigated crop fields and an ~8 acre waterfowl wetland provide for excellent hunting grounds for migratory birds, such as puddle ducks, doves, and a variety of geese. In addition, the ranch has a thriving population of Eastern Turkeys, along with feral hogs and other various varmints.
Livestock, Soils & Irrigation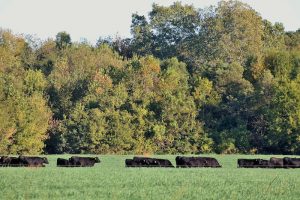 Currently, the ranch carries ~300 animal units (cows and yearlings). The primary non-irrigated grazing grasses are Bermuda and Bahia grass. For even denser stocking rates, all of the irrigated crop land could easily be converted to irrigated hay, if desired.
The ranch's best soils are located on a riverfront bend along the northern boundary. This peninsula is over 700 acres, consisting primarily of Redlake clay and Oklared sandy loam; both soil types are classified as Prime by the USDA. Currently, there are 200+/- acres in cultivation.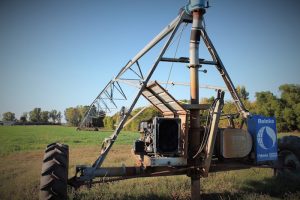 These highly productive soils benefit from a comprehensive irrigation system including: prolific water wells, miles of underground water lines, diesel generators, convenient electrical controls, dedicated irrigation lakes and pump stations. Two 1,000 foot towable Reinke pivots and seven separate attachment points complete the ranch's irrigated circulating system.
For complete livestock information, historical planting schedules and detailed crop production,  contact our office or schedule a tour of this Red River ranch for sale.
View full listing of 4M Ranch here: https://hrcranch.com/ranches-for-sale-listing/4m-ranch/