AFTER PRESIDENTIAL VISIT, HORTENSTINE RANCH COMPANY REFLECTS ON WORK WITH LOUIS VUITTON TO ACQUIRE FIRST U.S. RANCH PROPERTY FOR LEATHER WORKSHOP
Hortenstine Ranch Company hired for unique property transactions requiring utmost discretion and professionalism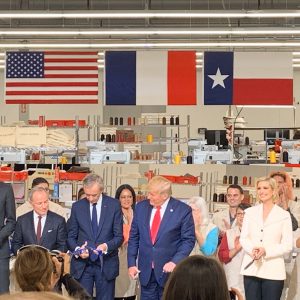 Hortenstine Ranch Company (HRC) represented Louis Vuitton in acquiring the 260-acre Rockin' Z Ranch in Keene, Texas for a new leather workshop. Renamed the Rochambeau Ranch, the $50 million facility received national attention on Thursday, October 17th when President Trump joined in its grand opening to highlight the administration's efforts to create U.S. manufacturing jobs. HRC's role in the project, and the project itself, had received little attention until the presidential visit, a testament to our company's ability to discreetly serve clients with unique needs and requirements.
"Louis Vuitton is one of the world's most iconic and well-known brands so we were ecstatic when they selected Hortenstine Ranch Company to represent them in their efforts to purchase a Texas property for their new leather manufacturing facility," said Cash McWhorter, Broker/Partner, Hortenstine Ranch Company. "However, we absolutely could not share the news at the time, thus demonstrating the trust Louis Vuitton had in us to represent the brand properly, and confidentially, in what would be their first ranch property acquisition in the U.S."
Hortenstine Ranch Company Broker, Casey Berley, ALC added "Seeing this team effort come to fruition, and create hundreds of jobs in North Texas, makes it especially satisfying knowing that we were able to play a small role in the project."
Berley and McWhorter represented Louis Vuitton in the transaction and were honored to attend the ribbon cutting ceremony with the President and special guests.