History helps us understand change and how the society we live in came to be.   Many of us feel the almost poetic appeal of the past and have a passionate interest in finding out what really did happen long ago.  In fact, almost all the major tourist attractions in the world relate to the appeal of the past. Through understanding the history of a place we are able to gain an incredible perspective which in return, enhances our lives.
The Texas Historical Commission (THC) is Texas' agency for historic preservation. "Real places telling real stories" is their motto.  The commission works hard daily to authentically communicate such stories of historical significant in an effort to enhance the well-being of individuals and communities. Click here to read more about the Texas Historical Commission.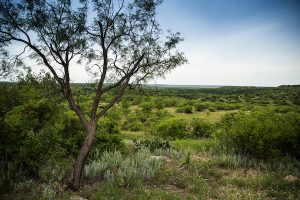 Two of these important historical markers erected by the Texas Historical Commission can be found along Highway 380 near the gates of Comanche Crest Ranch.  The 10,298 acre Comanche Crest Ranch presents one of the best large acreage, cattle and recreational ranches in the Rolling Plains.  The historical markers displayed near the ranch share events that happened in this area over 150 years ago!  A time where Comanche Indians roamed the land and how explorers reached out and started sharing culture. The other dates back to 1841 and the story of Thomas Lambshead, the first colonist to venture this far west.
Pictured below is Texas Historical Commission Marker 1 which commemorates a friendly meeting in 1849 between the men of Captain Randolph Marcy and Comanche Chief Senaco: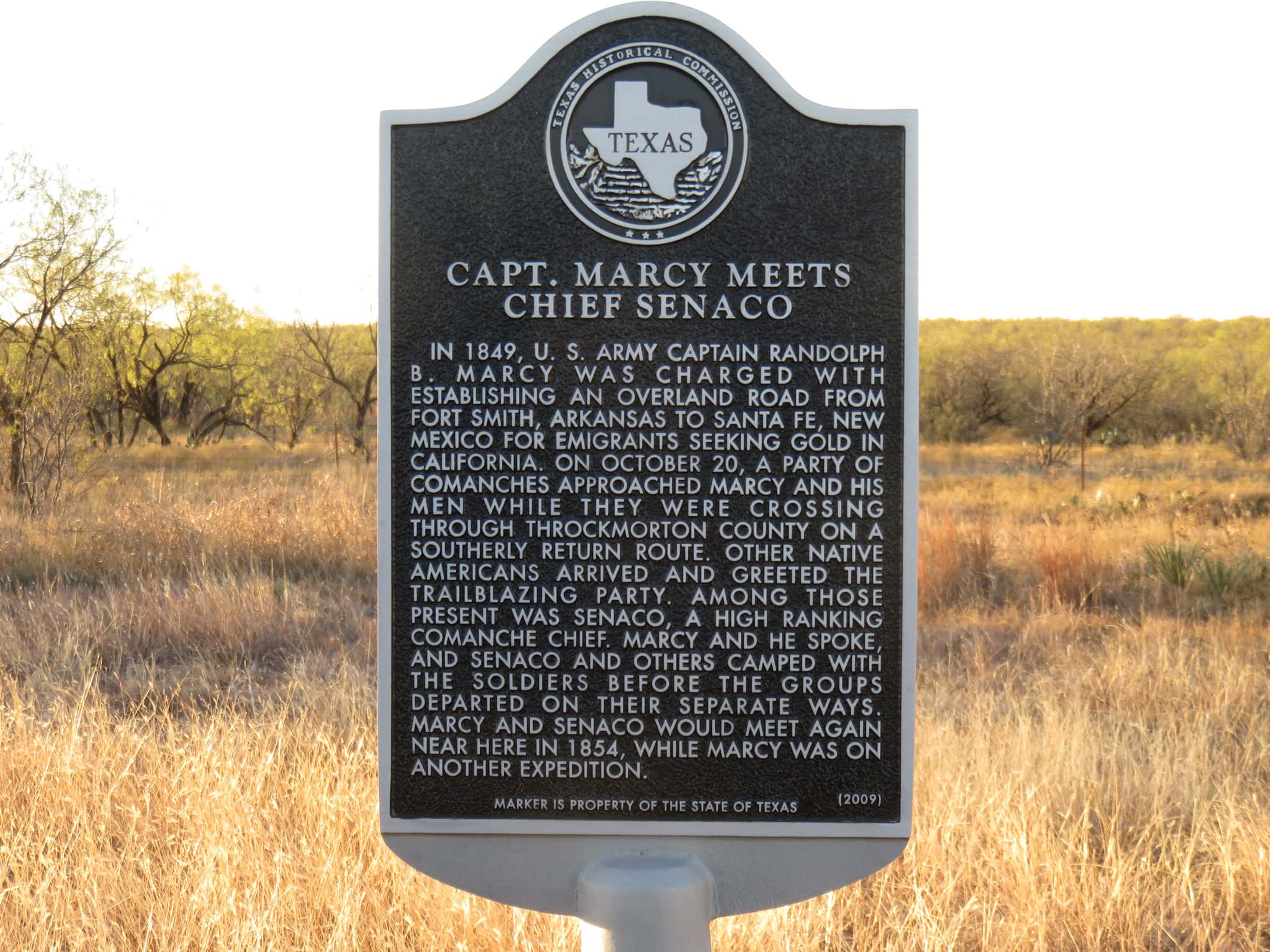 "In 1849, U.S. Army Captain Randolph B. Marcy was charged with establishing an overland road from Fort Smith, Arkansas to Santa Fe, New Mexico for emigrants seeking gold in California. On October 20, a party of Comanches approached Marcy and his men while they were crossing through Throckmorton County on a southerly return route. Other Native Americans arrived and greeted the trailblazing party. Among those present was Senaco, a high ranking Comanche chief. Marcy and he spoke, and Senaco and others camped with the soldiers before the groups departed on their separate ways. Marcy and Senaco would meet again near here in 1854, while Marcy was on another expedition." (2009)
Texas Historical Commission Marker 2 explains how the earliest settlers of the area where able to buy land and settle in what is now a thriving Throckmorton County: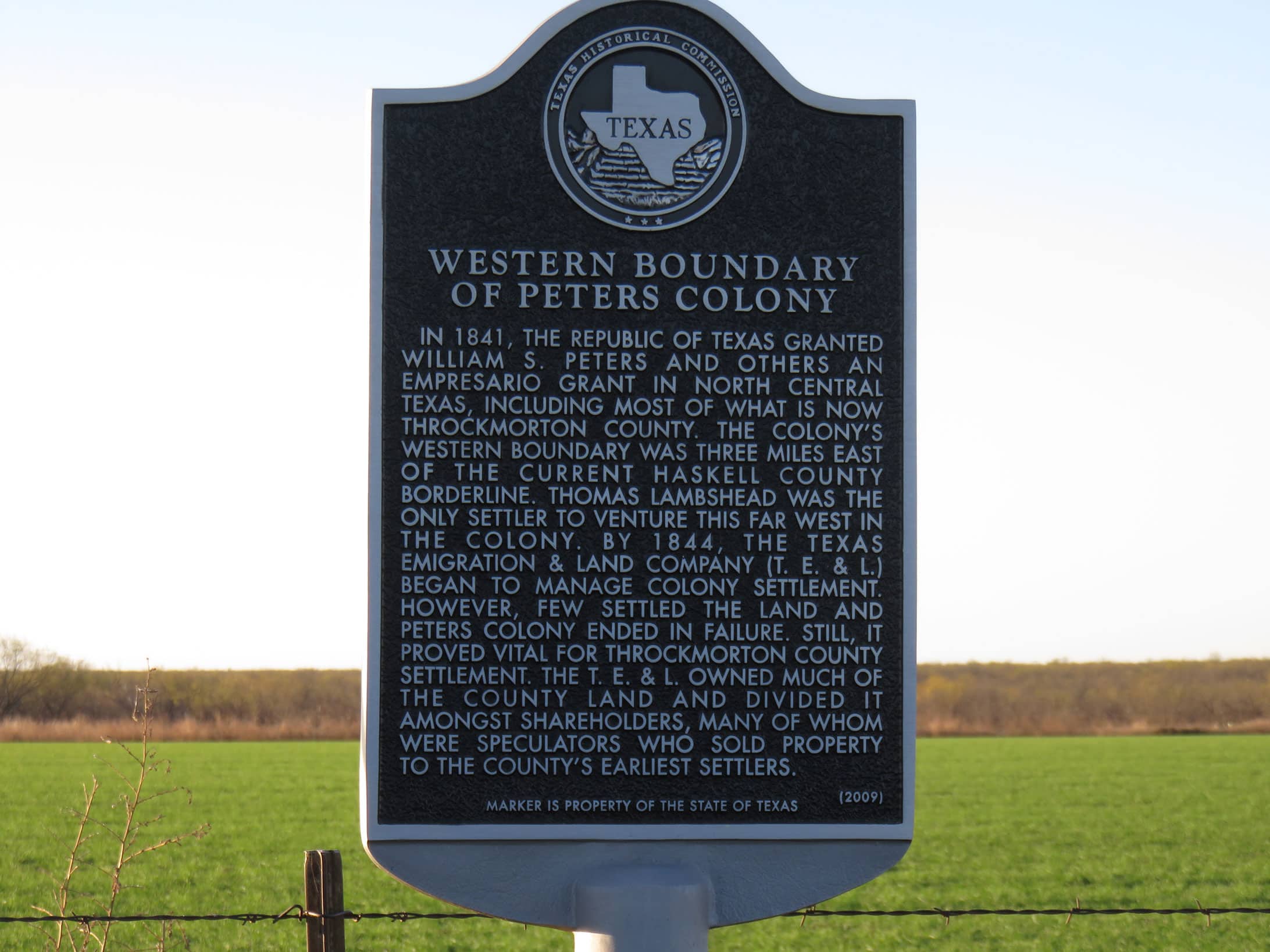 "In 1841, the Republic of Texas granted William S. Peters and others an empresario grant in north central Texas, including most of what is now Throckmorton County. The colony's western boundary was three miles east of the current Haskell County borderline. Thomas Lambshead was the only settler to venture this far west in the colony. By 1844, the Texas Emigration & Land Company (T.E. & L.) began to manage colony settlement. However, few settled the land and Peters Colony ended in failure. Still, it proved vital for Throckmorton County settlement. The T.E. & L. owned much of the county land and divided it amongst shareholders, many of whom were speculators who sold property to county's earliest settlers." (2009)
The old saying is true.  Everything IS bigger in Texas, even the history! Contact us today to tour Comanche Crest Ranch and see why this land was, is, and will always be a natural treasure in the Lone Star State. Experience the vastness and wonder of Comanche Crest Ranch and the surrounding Texas Historical Commission sites.