Hortenstine Ranch Company is proud to announce that it has received The Land Report Best Brokerage Award. This is the 5th consecutive year that Hortenstine Ranch Company has received the award. The award marks achievement in the real estate industry with only the top 100 best brokerages focusing on timberland properties, Texas ranches for sale, income-producing properties, productive farmland and recreational retreats being recognized by Land Report each year.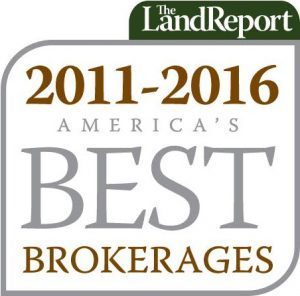 "Looking back on the past, it's been quite a ride," says partner Blake Hortenstine. "We've faced all sorts of changing conditions, rises and falls in oil and gas prices as well as more positive changes like a growing acceptance of land as an investment opportunity." Hortenstine continues "Our primary focus has always been on working hard for our clients and it's good to see, despite whatever changes happen across the market, that we've become and remained successful with just that simple approach."
"We'd just like to thank everybody that has helped us along the way" says partner Cash McWhorter. "The referrals that opened up new opportunities, the hard work of all of our team, and the kind words of people we've worked with have all been key ingredients in our success, always serving to motivate us to go above and beyond the traditional real estate brokerage. Awards like this just confirm that what we're doing is working and we look forward to giving our clients the same exceptional service as we round out 2016 and head into 2017."
About Hortenstine Ranch Company
Hortenstine Ranch Company, LLC is focused on rural, recreational, and farms & ranches for sale in Texas. Our diverse and talented team can deliver the most advanced marketing strategies, ranch market analytics, professional mapping, photography, wildlife consultation, negotiation management, and Buyer & Seller representation.  Our brokerage company continues to set the bar for the farm & ranch real estate market as proven by referrals and repeat business.
The Land Report Magazine
The Land Report magazine provides news, information, and insight into America's land for existing and potential landowners. The Land Report profiles passionate landowners, identifies investment opportunities, explains ways to improve and conserve land, provides legislation updates, and highlights outdoor gear and equipment.