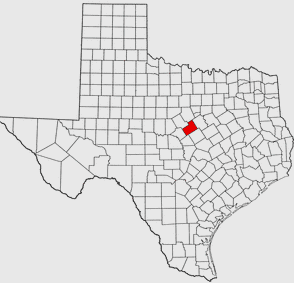 Hamilton County, also referred to as "Cowboy Country" and the "Dove Capital of Texas", is located deep in the heart of central Texas on the Edwards Plateau. It is a convenient drive from several major cites in Texas including Dallas, Fort Worth and Austin. On the cusp of the Texas Hill Country, Hamilton County boasts beautiful hills broken by scenic valleys.
Hamilton County History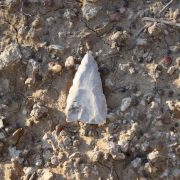 Tawokoni, Tonkawa, Waco and Comanche Indians were the first settlers of the area. Anglo-American arrived in the mid 1850's following Texas's independence from Mexico. Both county and town are named after James Hamilton, former Governor of South Carolina, who aided the Texas Revolution and Republic. Hamilton later drowned off the coast of Galveston after first giving his life-vest to a woman and child.
This spirit of selflessness is also reflected in local 19th Century heroine Anne Whitney of Hamilton County. Anne was a schoolteacher who died protecting her students when Comanches attacked her one-room schoolhouse. It is this trait of selflessness that is claimed to be passed down from generation to generation and continues to reside in the hearts of the people of Hamilton County.
Hamilton County Places of Interests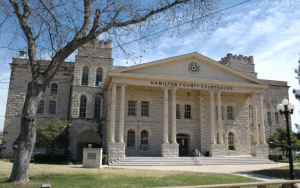 The city of Hamilton, the county seat of Hamilton County, is located at the intersection of U.S. Highway 281, and State Highways 22 and 36. It is home to the beautiful native limestone Hamilton County Courthouse that was built in 1887 and now listed on the National Register of Historic Places. The courthouse also serves as the county museum where visitors can observe Texas history.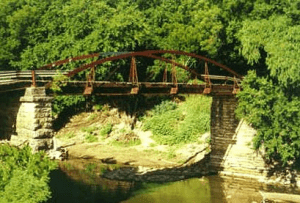 The Bullman Bridge is another historical structure in this area. Built in 1884, it is the most complete and substantial of the remaining bowstrings bridges in Texas. Hamilton is also home to a 4-acre rodeo arena where competitions are held  monthly and "Cowboy Country" comes to life. Click here to view more details.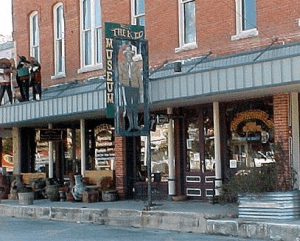 Hico, a quaint city full of Texas charm where "Everybody is Somebody", is located a short 20 minutes up the road from Hamilton at the intersection U.S. Highway 281, and State Highways 6 and 220. Ranching and tourism dominate the economy of Hico. Antique shops line the old town square and many come to visit each year to participate in events that you can only do in Hico! A few of these include Billy the Kid Museum, Hico Crater, Hico Antique Fair, Texas Steak Cook-off and more. Old Settlers Days, started in 1882, one year before Hico was incorporated, is the oldest event of its kind in Texas! Click here to find out more.
Top Crops in Hamilton County (acres)
Forage-land used for all hay and haylage, grass silage, and greenchop
Wheat for grain, all
Winter wheat for grain
Oats for grain
Sorghum for grain
Top Livestock Inventory Items (number)
Cattle and calves
Goats, all
Sheep and lambs
Layers
Quail
The "Dove Capital of Texas"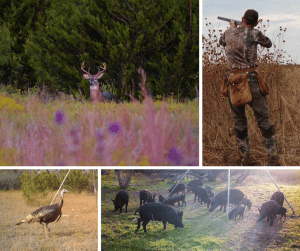 Hunting is a big part of the economy in Hamilton County. Deer, quail, duck, turkey, hog and varmint hunting can be excellent throughout the area.  Hamilton County calls itself the "Dove-Hunting Capital of Texas" and holds an Annual Dove Festival at the late-summer opening of the dove-hunting season. The Texas Parks and Wildlife Department's dove program leader states that migration route analysis indicates food production is the compelling factor for doves. They have researched many variables related to dove densities and grain production is at the top of their list. Bret Polk, Hortenstine Ranch Company agent and native resident of the area states, "I've hunted in and around Hamilton County all my life, and can attest that those who properly manage their land to promote dove hunting, quickly come to understand why it is known as the Dove Capital of Texas."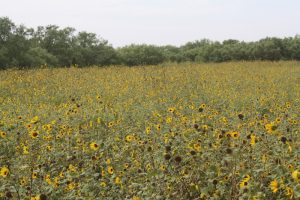 Hamilton County provides the ideal habitat diversity for dove. When settlers introduced livestock and grain farming to the area, made clearings in the forests, and planted trees on the prairies, they inadvertently created the perfect landscape for this edge-dwelling species. Even today the shade trees, waste grain, weed seeds, bare ground, and water found around modern farms and ranches in Hamilton County continue to attract mourning doves for man's year-round enjoyment.
In an effort to enhance wildlife habitat, Texas Parks and Wildlife has established five wildlife management associations within the county: Leon River Wildlife Management Association, North Vista Mountain Wildlife Management Association, Pecan Wells Wildlife Management Association (also part of Coryell County), Southwest Hamilton Wildlife Management Association and Plum Creek Wildlife Management Association. These associations are groups of private citizens joined together to manage their property for the benefit of wildlife.  Hamilton County has seen many benefits from these associations such as cooperating with neighbors to enhance habitat values on a larger level.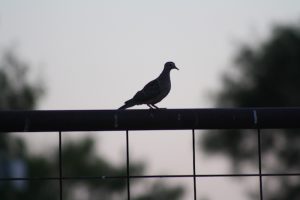 Mourning doves are an important economic, recreational, and esthetic resource which Texans share with people from around the world. Mourning doves easily locate areas of superior habitat but quickly leave areas that no longer provide adequate food, water, cover, or security requirements. With proper management, the mourning dove will always be an important part of Hamilton County. To view hunting seasons within the county click here.
Click here to view ranches available for purchase in Hamilton County.