By Blake Hortenstine, Ranch Broker
There are low-fenced people and there are high-fenced people when it comes to managing and growing trophy whitetails. Both can be quite passionate about their philosophies. There are reasons for both practices and both have their place. Good land stewardship can be accomplished with either, but why not give low fenced management a chance prior to high fencing? You might just be surprised and grow a massive low fence buck.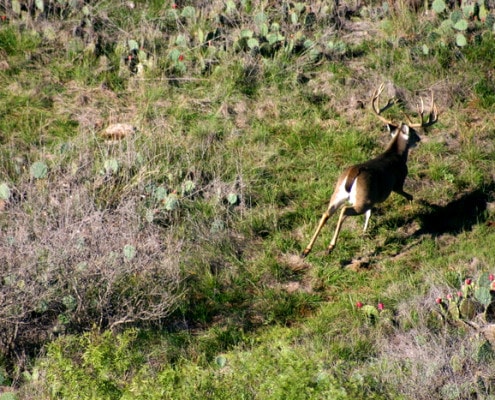 Naturally, it is important to be in an area known for good native genetics and high quality bucks. You also need neighbors that are large enough or practicing sound wildlife management. If these items cannot be met then growing quality native bucks can be difficult. Hopefully your situation generally fits the above so you will be in good shape to give it a shot. It is recommended that the landowner remove cattle for at least 3 years, create and farm multiple food plots, feed protein, conduct late winter dozer work on roads and land, and harvest appropriate deer all while keeping the property quiet. I would give these efforts a minimum of 5 years before getting discouraged. Patience can be a difficult part of the process. If results are unsatisfactory and you have enough acreage then you may want to consider high fencing. If the property becomes high fenced then it is very important to keep the deer density where it needs to be based on the habitat. This will require some removal of does and much more intensive work. Water, feed, habitat are all to be closely monitored. These concerns are not as big of a concern on low-fenced properties. There is just something special about a massive free-ranging whitetail. You never know what you might be able to do and the results can be extremely rewarding, but you have to give it a try. Either way, be a good steward of the land and take care of our natural resources.