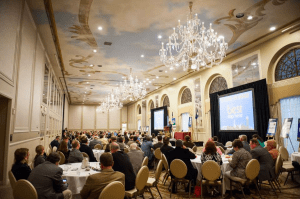 Each year the best professionals in the land business convene under one roof for the National Land Conference. The annual event is an experience like no other and ties together networking, learning, and business building for attendees. Each year the event grows larger and this year did not disappoint!
The 2016 National Land Conference was held March 11-13 in Dallas, Texas at the historic Adolphus Hotel, one of Dallas' finest luxury hotels. Industry professionals with backgrounds in all segments of the land business gathered in Dallas to share ideas, build business, and most of all have fun together.
Hortenstine Ranch Company's Accredited Land Consultant (ALC), Casey Berley, enjoyed the opportunity to speak on two of his unique offerings in Texas and Oklahoma.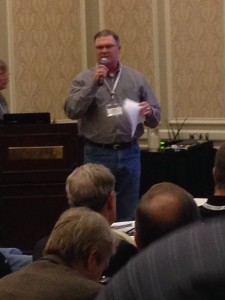 Whitetail Meadows Ranch is a scenic recreational high-fenced ranch with excellent proximity to the Dallas/Ft. Worth Metroplex area.  Wildlife and sportsmen benefit collectively from miles of private hardwood lined roads, creek crossings, established food plots, and organized wildlife management practices.  The ranch is in Texas Parks and Wildlife's Managed Land's Deer Program (MLD) Level 3.  Whitetail Meadows possesses excellent water features including over one mile of Denton Creek winding through the property.  Remarkable topography, excellent native wildlife habitat, and a comfortable, well-constructed home/lodge together with supporting improvements combine to create a premier turn-key hunting ranch.
Big Water Ranch is an extremely well balanced combination recreational and agricultural ranch. A 740 acre ranch with over 40 acres of surface water including a 24 acre and 10 acre lake, this property is nearly impossible to duplicate within 90 miles of Dallas, TX and attains a scarcity rating of 10 out of 10! Phenomenal water, big game, trophy fish, boundless ducks, big trees, great grass, and excellent proximity.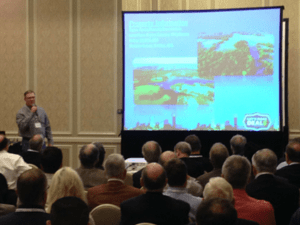 Casey Berley is pictured below at the 2015 National Land Conference in Tucson, Arizona where he was awarded the ALC designation. The Realtors Land Institute states, "Accredited Land Consultants (ALC) are more than land professionals. They're the most accomplished, the most experienced, and the highest performing land experts across the country— whether they specialize in agricultural land, timberland, ranch and recreational properties, or vacant land for development. The REALTORS® Land Institute confers the esteemed Accredited Land Consultant (ALC) designation to only those individuals who have achieved the highest level of education, experience, and professionalism."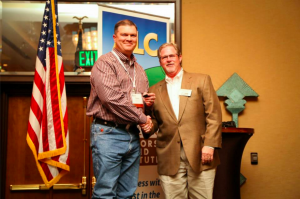 Thank you Realtor Land Institute for the opportunity to speak and we look forward to the National Land Conference in 2017.
Click the following links for more information on Casey's topics of discussion with videos: Whitetail Meadows Ranch and Big Water Ranch.
Click here to see more Oklahoma and Texas ranches for sale.