Park Cities Quail Dinner & Auction
The Hortenstine Ranch Company is proud to have been a Bobwhite Sponsor at the 10th annual Park Cities Quail dinner and live auction March 3rd at the marvelous Frontiers of Flight Museum in Dallas.
Presented at the event is the T. Bo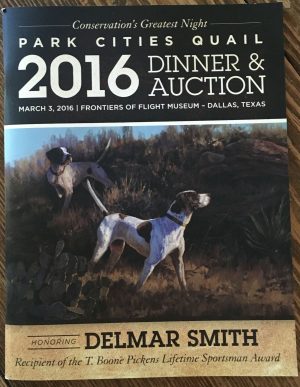 one Pickens Lifetime Sportsman Award, an award presented to a sportsman that demonstrates generosity, both in and out of the sporting community, a respect for natural resources, and most importantly, a tremendous love of the outdoors. This year's recipient was Mr. Delmar Smith, a man who has dedicated a lifetime to the sport of bird dogs and gun dogs as a trainer, judge, and breeder. In addition, he was on the forefront of biological and ecological studies to create better habitats and environments for the proliferation of game birds as a conservationist.
In addition to the handing out of the T. Boone Pickens Lifetime Sportsman Award, all of the proceeds of the Park Cities Quail Dinner and Auction go towards the funding of the Park Cities Quail Organization. Park Cities Quail is a Dallas based non-profit organization completely run by volunteers that strives to research, study, and preserve our sporting traditions both for our generation and future generations. As a fully volunteer organization, nearly 100% of donated funds go directly towards scientific research and youth education regarding these topics. As sportsman ourselves, this cause is very important to the Hortenstine Ranch Company as the Audubon Society states that quail populations are down by over 82% since 1967, making it very important that we do what we can do to research, preserve, maintain, and restore upland game.
To learn more about Park Cities Quail, or to learn how you can volunteer, you can visit their website here.
Not in Dallas but still want to get involved? Look for a local chapter of the affiliated organization Quail Coalition by visiting their website here.